United Parcel Service (UPS) Dividend Stock Analysis
United Parcel Service Dividend
(updated 10/13/2017)
The United Parcel Service dividend has been paid continuously since 1999 and increased for 6 consecutive years. UPS is included in the Arbor Dividend Growers / Producers List.
Price: $118.26
Current Dividend: $3.32
Dividend Yield: 2.8%
Cash Dividend Payout Ratio: 694%
Market Capitalization: 102 B
Enterprise Value: 117 B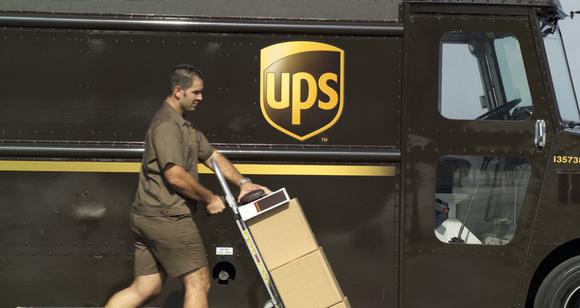 Description
Sector: Industrials
Industry: Integrated Shipping & Logistics
United Parcel Service (UPS) is the largest package delivery service in the world. Its operations offer time definitive delivery of letters, packages, and freight services; serving more than 220 countries and averaging over 18 million deliveries a day. The company operates in three segments; U.S. Domestic Package, International Package, and Supply Chain & Freight.
SWOT Analysis
Strengths
United Parcel Service operates in a duopoly (only two suppliers dominate the market) with FedEx. Its biggest competitive advantage is the high barriers to entry because of the cost and regulations to enter the shipping and freight industry.
The company has an extensive operating network including 110,000 delivery trucks, nearly 2000 daily flights, 2000 operating facilities, and 70 million daily tracking requests. You can see that the complexity and cost to any prospective competitor would be prohibitive.
Weaknesses
The customer trend is changing the mix toward more business to customer revenue (versus business to business). These revenues incur greater costs and put pressure on profit margins versus business to business shipments.
Opportunities
UPS is focusing on growing health care markets and developing nations for growth. After many years of investing heavily in technology and operational efficiency, the company can accept new business with margins much greater than competitors.
Threats
Like many companies, Amazon is having an effect on UPS operations. UPS has felt the need to charge large customers a little more for peak day delivery (i.e. the days just before Christmas). This is one of the reasons Amazon is looking at other options to deliver some of its packages. This could have a significant impact on volumes or profit margins (depending on how the issue is resolved).
Dividend Analyzer Checklist
(updated September 2017)
Dividend Safety Score (12/33 points)
Dividend Per Share (ttm): $3.22
Dividend Payout Ratio (ttm): 76%
Cash From Operations (CFO) Per Share (ttm): $5.52
CFO Dividend Coverage (CFO / DPS):  1.7  (1/6 points)
Free Cash Flow (FCF) Per Share (ttm): $2.05
FCF Dividend Coverage (FCF / DPS): 0.6 (0/6 points)
Net Financial Debt: $13470  M
Total Assets: $39724 M
Net Financial Debt / Total Assets: 34% (4/12 points)
Net Financial Debt to EBITDA (ttm): 205%
Total Liabilities to Assets Ratio (Qtr.): 99%
Piotroski Score (1-9) (TTM): (7/9 points)
Profitability & Growth Score (14/33 points)
Revenue (10 Year Growth) *CAGR > 4.14%: 2.5% (0/4 points)
EPS Basic Cont. Operations (10 Year Growth) CAGR > 4.14%: 0.5% (0/4 points)
Cash From Operations (10 Year Growth) CAGR > 4.14%:  1.5% (0/6 points)
Operating Earnings Yield (ttm): 5.5% (2/7 points)
Net Income (ttm): $3473 M
Gross Profit (ttm): $48022 M
Total Assets: $39724 M
Gross Profitability Ratio = GP / Total Assets: 121% (12/12 points)
Cash Return On Invested Capital (CROIC)(tttm): 3%
Return on Invested Capital (ROIC): 20%
Return on Invested Capital (ROIC) (5 Year Median): 21%
Return on Invested Capital (ROIC) (10 Year Median): 19%
Valuation Score (8/34 points)
Free Cash Flow Yield (ttm): 0.4% (2/9 points)
EV to EBIT (ttm): 20.0  (3/9 points)
EV to EBITDA (ttm): 14.3 (3/9 points)
PE10: 36.1 (0/7 points)
Price to Sales Ratio (ttm): 1.6
Price to Book Value (ttm): 78.6
Price to Earnings Ratio (P/E) (ttm): 27.7
TOTAL POINTS – (34/100) (50 is an average score)
*Compound Annual Growth Rate (CAGR)
**A Compound Annual Growth Rate of 4.14% = a 50% gain over 10 years.
Stay Updated All the Time!
DVB Treasure Trove Twelve, DVB Dividend Analyzer, & DVB Portfolios Newsletters: 3 For 1 Low Price $99/year (44% Savings Over Purchasing Separately)
Learn More
Conclusion
(updated September 2017)
United Parcel Service (UPS) is ranked #277 (out of 342) overall and #66 (out of 71) in the Industrial Sector by the Dividend Analyzer.
Type of Investor / Recommendation
Large Diversified Dividend Portfolios / Avoid
Looking For Exposure to Industrials Sector / Avoid
Deep Value Investors / Avoid
Portfolio Position Disclosures:
DVB Dividend Kings & Aristocrats – None
DVB Dividend Growth – None
DVB High Income – None
Arbor Asset Allocation Model Portfolio (AAAMP) – None
Discover, Compare, and Evaluate Dividend Stocks
Dividend Analyzer Newsletter: Analyze Dividend Safety, Profitability, and Valuation without emotional bias.
Treasure Trove Twelve: Find the Hidden "Gems" in the Midst of 1000's of stock choices. DVB Database Sector Analysis.
DVB Portfolio Newsletter: Six Portfolios: 3 Stock Portfolios and 3 ETF Portfolios. Email Notification of Portfolio Changes.
Get All 3 Dividend Value Builder Services for 1 Low Price: $99/year (save 33% over purchasing separately). 
Free 7-Day Trial. You take NO risk. Start today!
Learn More
Disclaimer: While Arbor Investment Planner has used reasonable efforts to obtain information from reliable sources, we make no representations or warranties as to the accuracy, reliability, or completeness of third-party information presented herein. The sole purpose of this analysis is information. Nothing presented herein is, or is intended to constitute investment advice. Consult your financial advisor before making investment decisions.