Chevron (CVX) Stock Analysis
Chevron Dividend
(updated 1/12/2018)
Chevron (CVX) has paid a dividend since 1912 and increased its dividend for 29 consecutive years; qualifying the company as Dividend Aristocrat and Dividend Champion.
Price: $133.56
Dividend Yield: 3.2%
Current Dividend: $4.32
Cash Flow From Operations Per Share (ttm): $9.60
Free Cash Flow Per Share (ttm): $2.32
Market Capitalization: 253 B
Enterprise Value: 288 B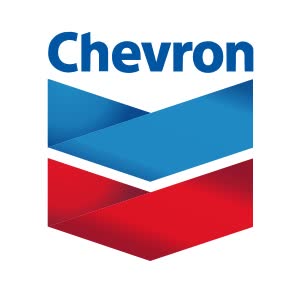 Dividend Analyzer Checklist
                                   (updated November 2017)
Dividend Safety Score (15/33 points)
Dividend Payout Ratio (ttm):   139%
Cash Dividend Payout Ratio (ttm):  233%  (0/12 points)
Net Financial Debt: $37996 M
Total Assets: $254599 M
Net Financial Debt / Total Assets: 15% (9/12 points)
Net Financial Debt to EBITDA (ttm): 181%
Piotroski Score (1-9) (TTM): (6/9 points)
Profitability Score (5/33 points)
Operating Earnings Yield (ttm): 3.2% (0/15 points)
Net Income (ttm): $5830 M
Gross Profit (ttm): $41761 M
Total Assets: $254599
Gross Profitability Ratio = GP / Total Assets: 16% (5/18 points)
Cash Return On Invested Capital (CROIC)(tttm):  2%
Return on Invested Capital (ROIC):   3%
Valuation Score (12/34 points)
Free Cash Flow Yield (ttm):   1.6% (3/17/ points)
EV to EBIT (ttm):  36.7
EV to EBITDA (ttm): 10.3  (9/17 points)
Price to Sales Ratio (ttm): 1.7
Price to Book Value (ttm): 1.5
Price to Earnings Ratio (P/E) (ttm): 37
PE 10: 14
TOTAL POINTS – (32/100) (50 is an average score)
Earnings Report: 10/27/17
Next Earnings Report: 1/26/18
Stay Updated All the Time!
SPECIAL 3 For 1 Price: DVB Full Membership for $99/year
3 Subscriptions: DVB Dividend Analyzer - DVB Treasure Trove Twelve - DVB Portfolios - plus My Personal Dividend Sortable Excel Spreadsheet
Learn More
Rankings & Recommendations
(updated November 2017)
Chevron (CVX) is ranked #307 (out of 377) overall and #15 (out of 24) in the Energy Sector by the Dividend Analyzer.
Chevron is one of only two energy companies that qualify as a Dividend Aristocrat (ExxonMobil (XOM) is the other); although these companies carry much more risk than they have in the past.
Low oil prices and greater debt should be a concern. On the other hand, if you believe energy prices are only temporarily depressed, these could be above average investments. You can collect the high dividend yield while you wait for more favorable prices.
Type of Investor / Recommendation
Large Diversified Dividend Portfolios / Below Average Option
Looking For Exposure to Energy Sector / Can Be Considered
Deep Value Investors /  Watchlist
Company Description
Sector: Energy
Industry: Oil & Gas Integrated
Chevron is one of the world's leading integrated energy companies. The company is involved in every facet of the energy industry: exploration, production, and transportation of crude oil and natural gas.
They also refine, market, and distribute transportation fuels and lubricants; manufacture and sell petrochemicals and additives; generate power and produce geothermal energy; as well as develop and deploy technologies that enhance business value.
Source: Chevron Annual Report
SWOT Analysis
Strengths
Chevrons greatest strength is its size and strong balance sheet. CVX is involved in projects all over the world, offering diversification, and providing protection from any one project going badly and severely hurting the company.
Large investments in the past are just coming online improving cash flow. As projects start generating revenue the company is able to "ride" on its past investments (Permian Basin, Gulf of Mexico, West Africa, Western Australia, and Gulf of Thailand) and invest less in capital improvements while energy prices are depressed.
Weaknesses
Low energy prices have disrupted both long and short term plans. Chevron is just finishing a major cycle of investment and have costs that are higher than some competitors. Obviously the revenue from these projects may be much less than was envisioned a couple of years ago.
The oil in industry is extremely capital intensive. It takes a lot of money to find and extract oil from the ground. Chevron must spend billions (avg. 28 billion /year the last 5 years) just to replace the oil being depleted from existing projects.
Opportunities
Low oil prices may shake out many smaller, weaker players in the industry providing bargain investment prices. Chevron is well positioned when and if energy prices rebound. In fact they along with ConocoPhillips, could be two of the biggest winners among the larger companies.
Threats
Low oil prices put a strain on the cash flow of even the most financially strong companies. If oil prices stay below $45 for an extended period of time there will have to be major adjustments to capital expenditures, earnings projections, and expected dividends.
Portfolio Position Disclosures:
DVB Foundation Portfolio: None
DVB Dividend Growth: None
DVB High Income: None
Arbor Asset Allocation Model Portfolio (AAAMP): None
Discover, Compare, and Evaluate Dividend Stocks
Get All 3 Dividend Value Builder Services for 1 Low Price: $99/year (save 33% over purchasing separately).
Dividend Analyzer, Treasure Trove Twelve, & Dividend Portfolios Newsletters
Free 7-Day Trial. You take NO risk. Start today!
Learn More
Disclaimer: While Arbor Investment Planner has used reasonable efforts to obtain information from reliable sources, we make no representations or warranties as to the accuracy, reliability, or completeness of third-party information presented herein. The sole purpose of this analysis is information. Nothing presented herein is, or is intended to constitute investment advice. Consult your financial advisor before making investment decisions.