Best Buy Dividend Stock Analysis (BBY)
Best Buy Dividend
(updated 7/14/2017)
The Best Buy dividend has been paid since 2003 and increased for 14 consecutive years;
qualifying the company as a Dividend Contender.
Price: $55.26
Current Dividend: $1.36
Dividend Yield: 2.5%
Cash Dividend Payout: 22%
Market Capitalization: 17 B
Enterprise Value: 14 B
Special Dividend Paid: $0.45 (4/07/2016)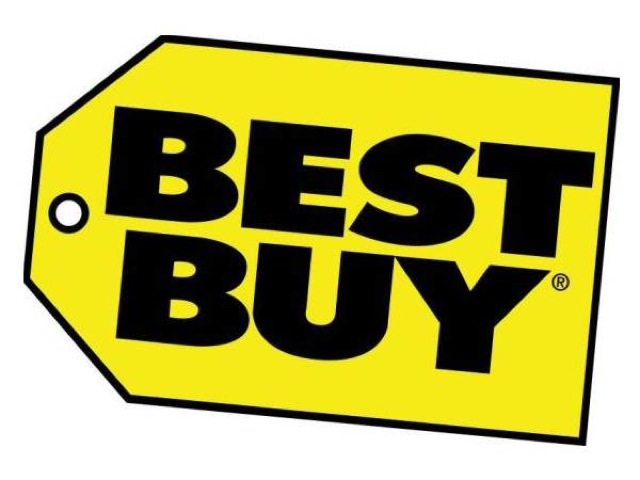 Description
Sector: Consumer Cyclical
Industry: Specialty Retail
Best Buy is the largest U.S. retailer of technology products and services. It sells and services computers, televisions, appliances, phones, entertainment products, digital imaging and accessories, and increasingly focusing on the Internet of Things (IoT).
The company's Geek Squad brand offers installation, repairs, and technical support both in and outside its brick and mortar stores. Call centers supplement their e-commerce and retail stores for sales and support. The company operates over 1,700 stores, down from nearly 2000 stores a few years ago.
SWOT Analysis
Strengths
Best Buy has a well known brand and stores with high traffic locations. The company's Renew Blue turnaround plan is in full swing and has made great strides in improving the profitability of Best Buy.
BBY is upgrading stores, cutting costs, improving online sales, and optimizing store layouts for a better customer experience and increased sales. They are leveraging the stores-within-a-store concept by partnering with companies such as Canon, Google, Intel, Microsoft, Nikon, Samsung, Sony, and Apple.
As the global leader in consumer electronics, Best Buy is well positioned to profit from the consumer trend toward connected, portable, electronic devices. Since the vast majority of Best Buy profits come from the United States they are somewhat insulated from the risks that come from currencies and a global slowdown.
Weaknesses
The commodification of consumer electronics is, and will continue to be, a challenge that requires the company to be flexible and adapt to a new consumer electronics environment. Intense competition is being brought about by technology that makes suppliers less reliant on Best Buy for distribution.
In the past, warranties have been a lopsided contributor to profits. Online purchases and gravitation to competitors (i.e. Amazon) are resulting in declining revenues from warranties.
Opportunities
The Internet of Things (IoT) is driving a product cycle that requires a great amount of explaining. Many new products are desired by customers to be touched, felt, and experienced before purchase. This favors and adds value to the in-store format and Best Buy's management is factoring this in to their marketing plans.
Threats
Digital distribution and online sales have drastically changed the marketing template for a successful consumer electronics retailer. In addition, warehouse clubs, mass merchants, and consumer product original equipment manufacturers (OEM) stores (i.e. Apple stores), all contribute to an intensively competitive retail environment.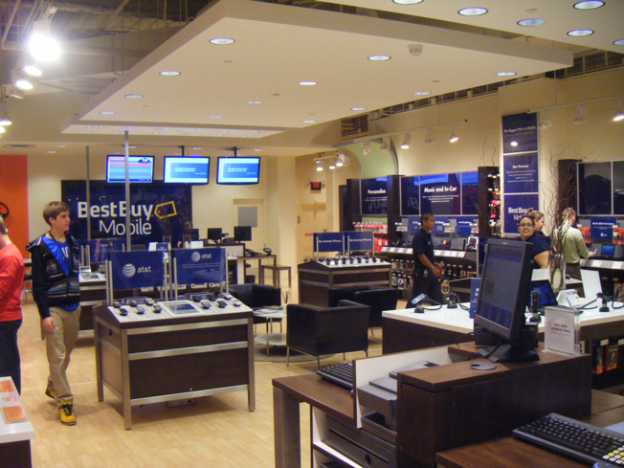 Dividend Analyzer Checklist
(updated January 2017)
Dividend Safety Score (30/33 points)
Dividend Per Share (ttm): $1.07
Dividend Payout Ratio (ttm): 45%
Dividend Per Share (10 Year Growth): 11.6%
Cash From Operations (CFO) Per Share (ttm): $6.87
CFO Dividend Coverage (CFO / DPS): 6.4 (6/6 points)
Free Cash Flow (FCF) Per Share (ttm): $5.04
FCF Dividend Coverage (FCF / DPS): 4.7 (6/6 points)
Net Financial Debt:   -1751 M
Total Assets: $14542
Net Financial Debt / Total Assets: -12% (12/12 points)
Net Financial Debt to EBITDA (ttm): 62%
Total Liabilities to Assets Ratio (Qtr.): 71%
Piotroski Score (1-9) (TTM): (6/9 points)
Profitability & Growth Score (17/33 points)
Revenue (10 Year Growth) *CAGR > 4.14%: 2.5% (0/4points)
EPS Basic Cont. Operations (10 Year Growth) CAGR > 4.14%: 0% (0/4 points)
Cash From Operations (10 Year Growth) CAGR > 4.14%: -2.7% (0/6 points)
Operating Earnings Yield (ttm): 11.9% (6/7 points)
Net Income (ttm): $1100 M
Gross Profit (ttm): $9361 M
Total Assets: $14542
Gross Profitability Ratio = GP / Total Assets: 64% (11/12 points)
Cash Return On Invested Capital (CROIC)(tttm): 28%
Return on Invested Capital (ROIC): 19%
Return on Invested Capital (ROIC) (5 Year Median): n/a
Return on Invested Capital (ROIC) (10 Year Median): 16%
Valuation Score (31/34 points)
Free Cash Flow Yield (ttm): 11.3% (9/9 points)
EV to EBIT (ttm): 7.0  (9/9 points)
EV to EBITDA (ttm): 5.1 (8/9 points)
PE10:  17.2 (5/7 points)
Price to Sales Ratio (ttm): 0.3
Price to Book Value (ttm): 2.8
Price to Earnings Ratio (P/E) (ttm): 12.5
TOTAL POINTS – (78/100) (50 is an average score)
*Compound Annual Growth Rate (CAGR)
**A Compound Annual Growth Rate of 4.14% = a 50% gain over 10 years.
Stay Updated All the Time!
 - Monthly Stock Rankings and Dividend Safety, Profitability & Growth, & Valuation Scores for all 250+ DVB Stocks - Dividend Value Builder Full Membership => $99/year (Analyzer & Portfolio Newsletters)
Learn More
Conclusion
(updated January 2017)
Best Buy (BBY) ranks #6 (out of 246) overall and #3 (out of 30) in the Consumer Cyclical sector by Dividend Analyzer.
BBY is penalized 14 points by the Dividend Analyzer for its poor growth record comparing today to 10 years ago. Otherwise this stock would have a core in the 90's.
Type of Investor / Recommendation
Large Diversified Dividend Portfolios / Should Be Included
Looking For Exposure to Consumer Cyclical Sector / Should Be Considered
Deep Value Investors / Excellent Option
Portfolio Position Disclosures:
DVB Foundation Portfolio – None
DVB Dividend Growth – Long
DVB High Income – None
Arbor Asset Allocation Model Portfolio (AAAMP) – Long
Discover, Evaluate, and Compare Dividend Stocks
Dividend Value Builder Analyzer Newsletter: Dividend Safety, Profitability & Growth, Valuation, and Total Scores for 240+ stocks in the DVB database. Top Stocks For Each Sector, Ken's Commentary.
Dividend Value Builder Portfolio Newsletter:   Foundation Portfolio, Dividend Growth Portfolio, High Income Portfolio. Open & Closed Positions. One-Page Analysis For Each Portfolio Stock.
Learn More
Disclaimer: While Arbor Investment Planner has used reasonable efforts to obtain information from reliable sources, we make no representations or warranties as to the accuracy, reliability, or completeness of third-party information presented herein. The sole purpose of this analysis is information. Nothing presented herein is, or is intended to constitute investment advice. Consult your financial advisor before making investment decisions.