3M Dividend
(updated 10/13/2017)
The 3M dividend has been paid continuously since 1916 and increased for 58 consecutive years; qualifying the company as a
Dividend King, Dividend Aristocrat, and Dividend Champion.
Price: $217.80
Current Dividend: $4.70
Dividend Yield: 2.2%
Cash Dividend Payout Ratio: 51%
Market Capitalization: 130 B
Enterprise Value: 138 B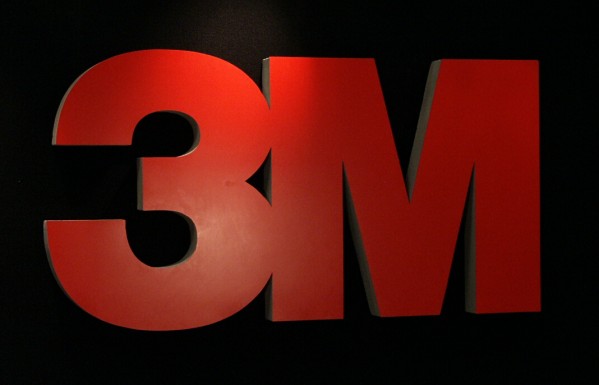 Description
Sector: Industrials
Industry: Diversified Industrials
3M (MMM) is a diversified industrial conglomerate which manufactures over 55,000 products available for sale in over 200 countries. The company calls itself a "technology company with a global presence in the following businesses": Industrial (tapes, adhesives, specialty materials, etc.; Safety and Graphics (personal protection products); Health Care (medical and surgical supplies); Electronics and Energy (solutions for electronic display, touch screens, computer screen filters, etc.); and Consumer (office and home products).
       Dividend Analyzer Checklist
                        (updated September 2017)
Dividend Safety Score (17/33 points)
Dividend Per Share (ttm): $4.57
Dividend Payout Ratio (ttm): 51%
Cash Dividend Payout Ratio (ttm): 51%
Cash From Operations (CFO) Per Share (ttm): $10.98
CFO Dividend Coverage (CFO / DPS): 2.4 (2/6 points)
Free Cash Flow (FCF) Per Share (ttm): $8.75
FCF Dividend Coverage (FCF / DPS): 1.9 (4/6 points)
Net Financial Debt: $8507 M
Total Assets: $33957 M
Net Financial Debt / Total Assets: 25% (5/12 points)
Net Financial Debt to EBITDA (ttm): 134%
Total Liabilities to Assets Ratio (Qtr.): 66%
Piotroski Score (1-9) (TTM): (6/9 points)
Profitability & Growth Score (22/33 points)
Revenue (10 Year Growth) *CAGR > 4.14%: 2.8% (0/4 points)
EPS Basic Cont. Operations (10 Year Growth) CAGR > 4.14%: 5.0% (4/4 points)
Cash From Operations (10 Year Growth) CAGR > 4.14%: 5.7% (6/6 points)
Operating Earnings Yield (ttm): 6.0% (2/7 points)
Net Income (ttm): $5390 M
Gross Profit (ttm): $15094 M
Total Assets: $33547 M
Gross Profitability Ratio = GP / Total Assets: 44% (10/12 points)
Cash Return On Invested Capital (CROIC)(tttm): 23%
Return on Invested Capital (ROIC): 23%
Return on Invested Capital (ROIC) (5 Year Median): 21%
Return on Invested Capital (ROIC) (10 Year Median): 20%
Valuation Score (12/34 points)
Free Cash Flow Yield (ttm): 4.3% (5/9 points)
EV to EBIT (ttm): 17.2 (4/9 points)
EV to EBITDA (ttm): 14.2 (3/9 points)
PE10: 32.8 (0/7 points)
Price to Sales Ratio (ttm): 4.2
Price to Book Value (ttm): 10.6
Price to Earnings Ratio (P/E) (ttm): 23.6
TOTAL POINTS – (51/100) (50 is an average score)
*Compound Annual Growth Rate (CAGR)
**A Compound Annual Growth Rate of 4.14% = a 50% gain over 10 years.
Stay Updated All the Time!
DVB Treasure Trove Twelve, DVB Dividend Analyzer, & DVB Portfolios Newsletters: 3 For 1 Low Price $99/year (44% Savings Over Purchasing Separately)
Learn More
SWOT Analysis
Strengths
Strategic advantages include a strong brand, patents, technology, and being a low cost producer. Approximately 50% of 3M products are consumables, providing a less cyclical revenue stream to balance their portfolio.
3 M is known for innovation over decades due to their successful research and development. The company is well diversified in product offerings and geography, and has a long term record of growth. They have the infrastructure and proven ability to bring new products to market.
Weaknesses
Many 3M products have a low barrier to entry meaning the company has to be careful about pricing its products. With so many patents the company has to spend heavily on litigation.
Opportunities
3M is expanding rapidly in emerging markets. The company is good at making small acquisitions that propel growth. Global fluctuations in input prices are trending in the company's favor.
Threats
Product life cycles require the company to constantly innovate. Without innovation the company would not be able to make growth projections. A softening of global economies and rising U.S. dollar could hurt earnings.
Conclusion
(updated September 2017)
3M is ranked #138 (out of 342) and #33 (out of 71) in the Industrial Sector by the Dividend Analyzer.
MMM is an average investment at this time. Because of its long consistent history it can be considered for large diversified dividend portfolios. Otherwise, I would wait for a better entry point.
Type of Investor / Recommendation
Large Diversified Dividend Portfolios / Can Be Considered
Looking For Exposure to Industrial Sector / Can Be Considered
Deep Value Investors / Avoid
Portfolio Position Disclosures:
DVB Foundation Portfolio: None
DVB Dividend Growth: None
DVB High Income: None
Arbor Asset Allocation Model Portfolio (AAAMP): None
Dividend Investing Without Emotional Bias
Get All 3 Dividend Value Builder Services for 1 Low Price: $99/year (save 33% over purchasing separately).
Dividend Analyzer, Treasure Trove Twelve, & Dividend Portfolios Newsletters
Free 7-Day Trial. You take NO risk. Start today!
Learn More
Disclaimer: While Arbor Investment Planner has used reasonable efforts to obtain information from reliable sources, we make no representations or warranties as to the accuracy, reliability, or completeness of third-party information presented herein. The sole purpose of this analysis is information. Nothing presented herein is, or is intended to constitute investment advice. Consult your financial advisor before making investment decisions.